Valérie Bégin and her marine mammals
Valérie Bégin and her marine mammals
Valérie Bégin has loved creatures since she was knee-high to a grasshopper. So much so that she decided to do animals for a living! The animal guide for marine mammals at Aquarium du Québec has been working with bears, walruses, and seals for nearly 20 years. The bond of trust she has built with them over time is beautiful to see.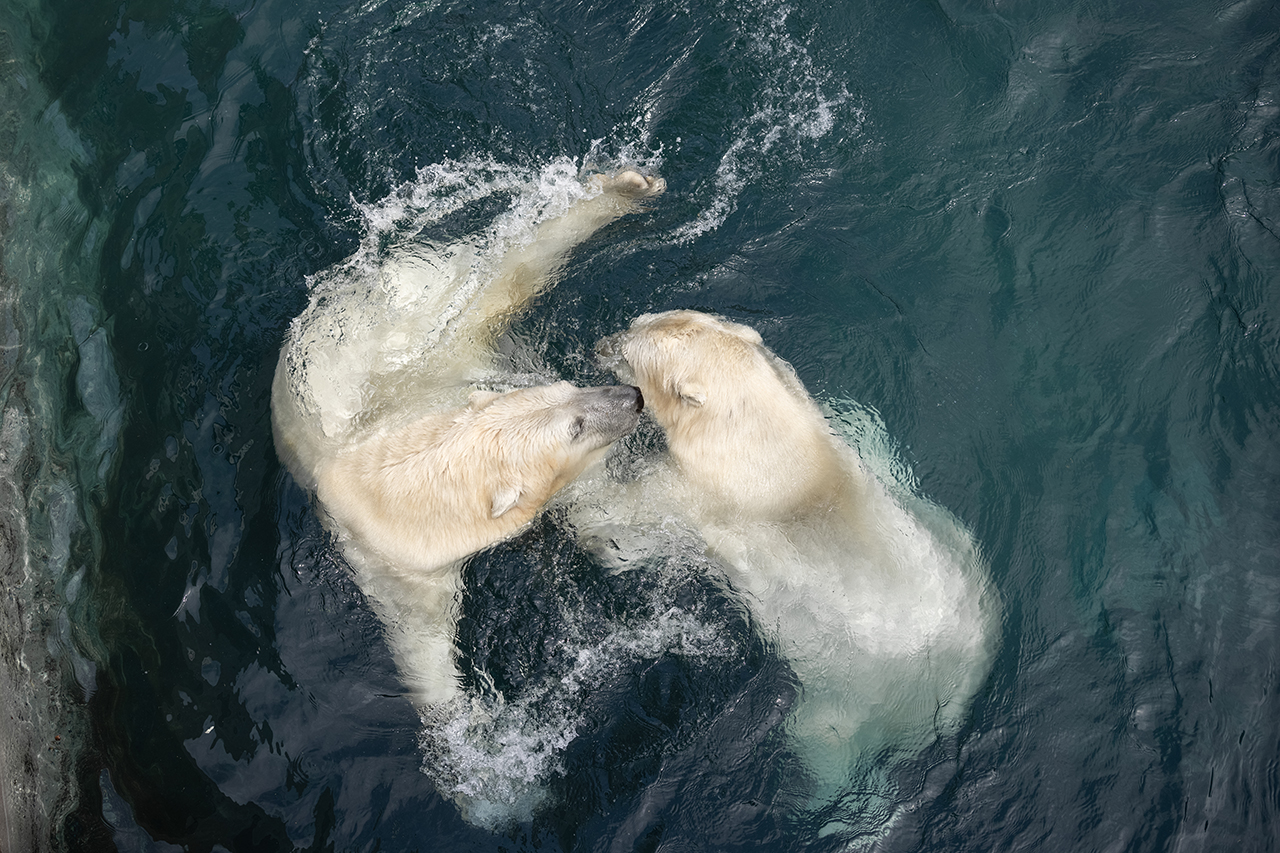 Cat, dog, rabbit, turtle, fish, parrot, lizard… it's difficult to find an animal that Valérie hasn't adopted! Even though she developed allergies to some of them, there was no way she was going to let her dream of making a career out of her passion simply slip away.
Her beginnings at the Aquarium
After her studies in natural sciences at Cégep Garneau, she chose Université de Sherbrooke to develop her knowledge of biology. The cooperative program enabled her to do internships with marine mammals at Aquarium du Québec and at Institut Maurice-Lamontagne.
In her early twenties, she landed a job at the old Aquarium du Québec, just before it closed for a facelift. She returned to work there two years later, in 2002, when it reopened under the name of Parc Aquarium du Québec.
"It was exciting to prepare for the reopening, with the improved outdoor site and the redevelopment of the Arctic seal pool," recalls Valérie. At that time, she began her new challenge as a naturalist, sharing with the public her knowledge of the wonderful marine world.
Soon she was offered an opportunity to take the plunge and hook up with marine mammals. She was delighted! "I looked with envy at my colleagues who worked with bears and seals. I learned everything with the experienced team that was in place. Everything happened naturally; I was never afraid to work with the more imposing animals," she recounts.
Walruses, her "little" favourites!
It was in 2003 that Aquarium du Québec welcomed a first walrus, Arnaliaq. Valérie has fond memories of her initial contacts with the mustachioed colossus.
"Nobody on the team had worked with walruses yet. We had to learn everything about this social animal, a creature which can sometimes be dangerous," she emphasizes. In fact, an adult walrus can weigh more than 1,800 kilos!
Over time, Valerie develops a close relationship with her protégés: "Since they're social animals, it's much easier to make a connection with them. They have an incredible capacity to learn."
A whole lot of love for Boris and Balzak
When Boris arrived in 2005, she already had a solid walrus knowledge base. Training sessions with this type of Pacific walrus are stimulating and instructive. From the very first moments, a strong bond of trust developed.
She's not the only one to be charmed by this aquatic icon. Thanks to his famous vocalizations, Boris has become the star of the Aquarium. He has a whole repertoire, ranging from whistles to train noises, by way of cavernous sounds and heartfelt kisses.
The same privileged link has been created between Valérie and Boris' son, Balzak, born at the Aquarium in 2016. Among animal guides, she's one of the supervisors who takes care of him every single day. "I know that Boris and Balzak trust me completely," she says. "They know that I would never do anything to harm them."
She still keeps in mind that what attracts them the most is food. Hormonal changes can also affect their interactions. "When Boris is in a breeding period, I can't fight the hormones. I have to adapt and accept him as he is," she describes.
With Boris, our walrus specialist uses her gentle voice to gain his cooperation. He would recognize her among a thousand people, or almost! When Valérie's sister came to visit the Aquarium and said Valerie's name in the audience, Boris went straight to her sibling!
Junior's overwhelming affection
The other resident of Aquarium du Québec for whom Valerie has a weakness is Junior, who lives above the stingray pool. He slaps his flippers when he sees her. "Junior reminds me of the parrot I had at home for a number of years. They're very intelligent and endearing creatures," she reveals.
Today, she supervises his aquarist caregivers. She gives them advice, whether for his bath, a physical examination, filing his claws, or caring for his muzzle, while avoiding being bitten. Oh yes, despite his legendary charm and amusing chatter, Junior sometimes expresses his dissatisfaction by biting hard or with solid whacks of his snout!
Eddy's death
Over the past 20 years, Valerie has had to cope with the death of some of her protégés. "It's normal to get attached, since we spend more time with them than with our own pets at home. If it's an animal under my care and supervision, the bond is even stronger and the grief greater. I've cried on occasion," she confesses.
By her own admission, the departure of Eddy touched her deeply. This polar bear, another iconic figure of the Aquarium, passed away at the age of 21 due to kidney problems.
"Every time an animal dies at the Aquarium, we hang a frame in the employees' room with pictures of the deceased. I find this ritual touching and it helps me to grieve. I tell myself that I must continue to be a reliable presence for the other animals," she explains.
Physical work
The profession of marine mammal guide is physically demanding. Valérie and her colleagues have to lug food buckets containing up to nine kilograms of edibles. Rain or shine, they must provide appropriate care for bears, foxes, seals, walruses, and birds of prey. During winter, they're also the ones who have to shovel the enclosures.
Among the qualities required for this job, in addition to a strong interest in animals, Valerie believes that candidates must appreciate the outdoors and not be dismissive or squeamish. Picking up droppings and cutting up rats and mice to feed the residents is part of an animal guide's daily routine. Those who are faint of heart need not apply!
Thriving on challenges
Valerie loves to take on new challenges, which, shall we say, are not in short supply! For example, with biomedical training, staff voluntarily prepare animals for specific care (blood tests, X-rays, and the like). Rewards are essential for our hirsute celebrities!
"Soon, seals will be vaccinated. They must put up with being jabbed, a bit like the rest of us. Training them is really motivating! Sometimes, animals are less receptive because they aren't hungry; you have to be patient and respect their rhythm. It's very rewarding when you can administer a vaccine or do an ultrasound with the cooperation of an animal, without having to anesthetize the creature. It's much less stressful for them and, especially, safer," she affirms.
Newly appointed team leader, Valerie intends to stay at Aquarium du Québec for a long time to come. Her bright eyes and brilliant smile speak volumes about how happy she is with her darlings. Watching her interact with walruses, arctic foxes, and seals is a sight for sore eyes.